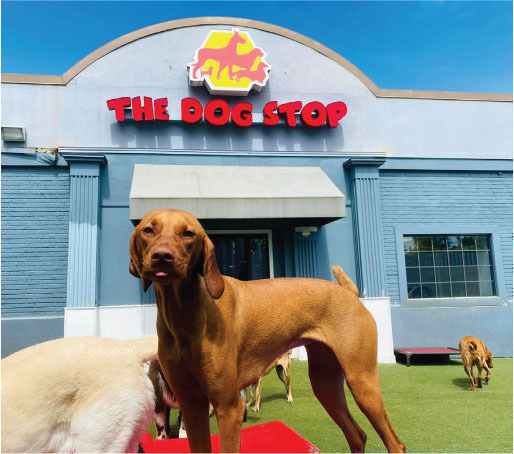 Jesse Coslov, CEO and founder of The Dog Stop, which has locations in Alabama, Delaware, Florida, Georgia, Illinois, Louisiana, Ohio, Pennsylvania, Tennessee, Texas, Virginia and Washington
In business since: August 2009
Type of business: primarily brick-and-mortar Services offered: boarding, day care, grooming, and training and enrichment for dogs as well as in-home services (dog walking and overnight pet sitting)
Pet Product News (PPN): What are your facilities best known for?
Jesse Coslov: We're the dog people. We were founded and built by dog people, and those same dog people continue to lead The Dog Stop and further our mission every day.
We are known for providing best-in-class full-service day care, boarding, grooming, enrichment, retail, and training services that are specifically and thoughtfully designed for the dogs entrusted to us. From the design of our indoor/outdoor play and rest spaces to our vast menu of enrichment and nutrition options, everything we do is for the dogs.
Our approach to dog care is 360 degree and ensures that we have something for every dog. Too often dog day care and boarding facilities paint all dogs with a universal brush. Many turn many dogs away because they are not "ideal" candidates for dog day care. But to us, group play is just one of the many approaches we take in promoting healthy and happy dogs. We also offer enrichment and training services, as well as in-home services. And for our VIPs (Very Independent Players), we offer a variety of alternative activities to promote physical and mental stimulation. And when it's time to go home, our retail store offers a carefully curated mix of high-quality food, treats and toys so that our clients can continue that best-in-class level of care.
PPN: What are some of the top-selling products in your facilities right now?
Coslov: Victor, a dog food company based out of Texas, has led our food-based sales for quite some time now. For years, it's been known as the most cost-effective five-star food on the market. Our dogs love the high-animal-protein recipes, and our clients love the price.
It's hard to beat a good bully stick when it comes to treats. We sell them in 6- and 12-inch varieties, both single and braided. All of our bullies either come from the USA or South America. Fun fact: Since bulls in South America aren't typically castrated like they are in the U.S. (at which point they're called steers), the bully sticks that hail from there are routinely higher in protein and lower in fat, making them a healthy snack.
PPN: What are your favorite products right now?
Coslov: I love Earth Animal's No-Hides. Dog owners are starting to catch on to the dangers of rawhide, and No-Hides offer a fantastic alternative. [With ingredients such as] meat, banana and pineapple, these chews offer a safe and satisfying replacement to their heavily bleached counterpart.
Raw goat's milk is a must have, especially during spring. Since it's high in probiotics, it can help mitigate seasonal allergies for pups. Primal and Answers both offer frozen versions that easily thaw in the refrigerator and can be poured over food or refrozen inside a toy for a popsicle-esque treat. Haute Diggity Dog plushies are a hit with clients everywhere. Each stuffed toy acts as a pun. What pup wouldn't want a squeaky "Grrrona" or "White Paw"?
PPN: What industry trend have you been keeping your eye on most closely?
Coslov: The pet services sector overall is a recession-resistant industry. Consumers have proven time and time again that pets are family and should be treated as such. This means that during economic downturns where families cut back on discretionary spending, they continue to spend on the health, wellness and happiness of their pets. As a result, we continue to follow the evolution of our customers and what drives their spend so that we can, in turn, offer a full-service product to meet all of their needs in one place.
PPN: What are the challenges and benefits of operating a multiservice pet franchise?
Coslov: The challenge for us as a brand and franchisor, as well as our franchisees, is that in offering multiple services, you have to master multiple services and do each extremely well. It's easy to think about the multitude of ways you can bring in revenue, but you have to also be mindful of the fact that this means you have to manage multiple services and train your staff to manage and provide multiple services.
When done well, the benefits of being multiservice greatly outpace the challenges. In offering more than one revenue-generating service, you open the business up for more potential customers, more return trips to your store and a higher average ticket. You're also less vulnerable to business ebbs and flows and seasonality. For example, the holiday season brings an incredibly high demand for dog boarding services, and we see a natural drop-off in demand at the beginning of the year. Having the ability to lean into our catalog of other services gives our franchisees the ability to continue to generate revenue to offset natural business slowdowns.
By taking a multifaceted approach, we become a one-stop shop for consumers. In housing multiple services under one convenient umbrella, you create a stickiness with that customer, and the more services they opt into, the more loyal they become to your brand and your business.
PPN: How does your retail selection complement your service offerings?
Coslov: At its core, The Dog Stop acts as a problem solver and resource for clients. When it comes to nutrition, there is a surprising lack of resources for dog owners to rely upon, and sometimes owners aren't even aware of what diet can do for their dogs. We've seen dogs reduce hot spots, increase mobility and lose weight all just from dietary changes. We specifically choose our products to set dogs up for nutritional success, and we're always available to talk shop with our clients.
Several of our products are offered a la carte alongside other services. Boarding dogs can pick from a menu of bedtime snacks. Grooming dogs may request peanut butter on a LickiMat to keep them occupied in the tub. Day care dogs may opt for some CBD [cannabidiol] treats to help them relax in a new environment. Just like our services, we stand by our products. If something doesn't work for a client, we want them to bring it back and tell us about it.
PPN: What business goal do you hope to accomplish in 2023?
Coslov: We are looking to continue the rapid expansion of The Dog Stop's footprint across North America and are very excited to bring our elevated 360 approach to dog care to the many new stores and markets that we have planned over the next few years.
Published: July 2023, Pet Product News International